Terug naar overzicht
Wobbe MICHA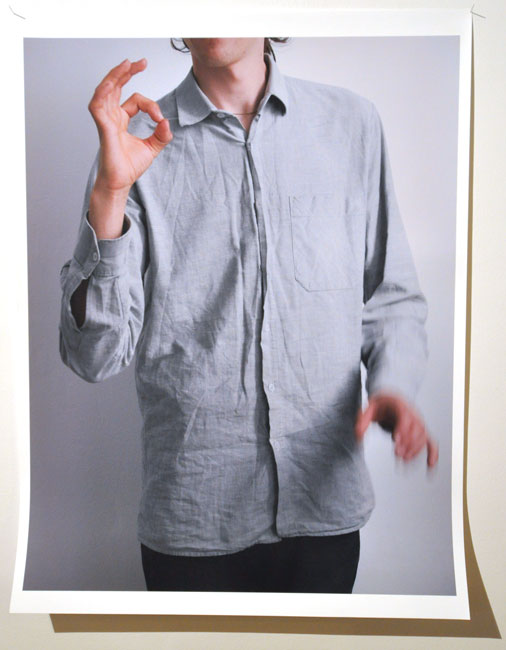 Wobbe Micha (b. 1985, Belgium) graduated from Sint Lukas School Brussels Free Arts.
Artist in Residence at Wiels, November2008 – February 2009
L'Ivresse des grandes profondeurs | To retrieve the origin of the absolute gesture in space.
When attentive, one is able to perceive a special movement in the following sentence: « Pas de drame, pas de sujet et je dirai même pas d'objet. » This same movement can be found in each of the exhibited works. Through each of these works and through each word a continuous revolution – a rotation – is being preserved to seemingly round off the meaning. Still, during the first moment our attention is directed towards the singularly determined contents. The movement coincides with an alertness of which one attempts to retrieve the source during its flight. The appearance allowing each object to manifest itself indeed refers to itself in an absolute manner. The O-sound, which unremittingly becomes sonorous, can only be captured when one reshapes the O-sound as the object thereof.
This gradual progression of awareness is found in the description below. The truthfulness of the proposed knowledge is unclear, but it can be interesting to use this as an approach to conjure associations.
…« Under water the skin is covered with pearly air bubbles, which protect the naked skin from excessive pressure. The slightest nudge makes the bubbles detach, delivering one to the pressure exercised by depth. » This phenomenon, called 'L'ivresse des grandes profondeurs', occurs when inhaling a noble gas, which doesn't completely disappear by exhaling, under pressure.
The gestures present in the exhibition, have been formed throughout the air and emphasize that the intellect is the capability not to think our thoughts through. Additionally this movement indicates the point after which one can talk of art in terms of reality during the patient search for the right word.
In the reunification, in which the gesture and its meaning seemingly coincide, the objects are being ordered and formed by contemplation, after which the evident can only be found in the element defined by this carefully omitted tonality. As such the O-sound coincides with a bright definition. The experience is determined through and through and precedes the form to which it belongs. No object is destined to be forced to the background or to the form. Everything relies on the direction of attentiveness. These are gestures which evolve in space and cannot have any significance outside of it. Not a single point in space, or any possible suggestion is lost.