Nikita Kadan in Flanders Fields Museum, Ieper
In Flanders Fields Museum, 1 July- 31 December 2023
Sint-Maartenskerk [kathedraal], Ieper, 1 September-27 October 2023
Nikita Kadan is the 2023 artist in residence at the In Flanders Fields Museum. The works he created as part of his residency are on view as from 1 July 2023. 
Meet & Greet with Nikita Kadan in In Flanders Fields Museum, 26 September, 7 pm
The Veil of Irpin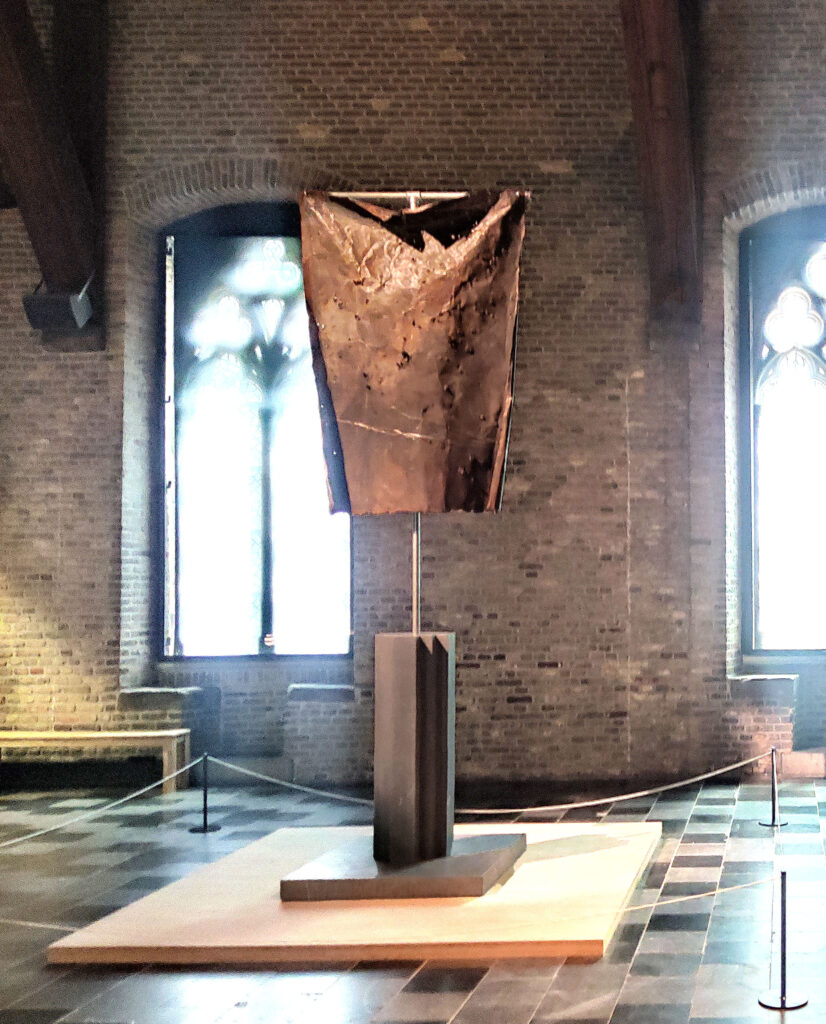 At the heart of the museum, in the space dedicated to the artist in residence, Nikita Kadan has conceived a sculpture with a strong emotional, visual and political impact. The Ukrainian artist, currently resident in Kyiv, wanted to create a link between the unsettling war that accompanies his daily life and the history of Ypres. For his installation Nikita Kadan has used rubble and metal sheets deformed by the current war. It was transformed into a metal unmovable flag set into a massive bare cross. The heaviness and the rigidity of the material are supported by equal strength, a stone, an unequivocal reference to the gravestone, a sadly common element between past and present.
This work will be on display at In Flanders Fields Museum until 31 December 2023.
Tryvoha (the Sirens and the Mast)
In addition, Nikita Kadan created a second installation, which will be on display at St Marten's Church (free entrance) until October 27th. Here, the artist expresses the same emotional, visual and political impact, but with a vivid and penetrating form, through a sound installation inextricably linked to the perception of war, again relating to Ypres' past and Ukraine's present. Contrary to the work exhibited at the In Flanders Fields Museum, this work of art, immense in its size, seems light and welcoming at first. However, once entered, a sharp and deep sound resounds through the Holy space, physical and emotional, evoking the sound of the sirens warning the population of the threat of war approaching. 
With the valued help and support of : Palieter Hillewaere, Bea Callemeyn and local Ypres crafts(wo)men, galerie Transit (Mechelen), artist collective Asortymentna Kimnata (Ivano-Frankivsk), and Pinchuk Art Centre (Kyiv).
Nikita Kadan is born in 1982 in Kyiv, he studied at the National Academy of Fine Art (Kyiv) at the department of monumental painting under professor Mykola Storozhenko.
His artistic work is deeply connected with historical and political developments. His creations range from drawings, paintings, photography as well as sculpture, soundscapes and installations. Often involving architects, sociologists, and human rights activists in his work, Nikita Kadan is a member of the artists' group R.E.P. (Revolutionary Experimental Space) and co-founder of the curatorial activist group Hudrada. He represented Ukraine on the 2015 Biennale of Venice and works of him have been acquired by museums including the Pinakothek der Moderne in Munich, the M HKA Museum of Contemporary Art in Antwerp, the MUMOK Museum of Modern Art in Vienna, the National Art Museum in Kyiv, Museum of Military History (Dresden) and the Centre Georges Pompidou in Paris. In 2022 Kadan received the Shevchenko National Prize, he highest state prize of Ukraine for works of culture.
https://www.inflandersfields.be/nl/artist-in-residence-2023
http://nikitakadan.com/
https://transit.be